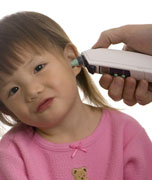 We don't kid around about kids
All of our board-certified otolaryngologists have been trained to care for pediatric patients.
However, pediatric otolaryngology is a subspecialty within otolaryngology – head and neck surgery that exists to provide care of infants and children with both usual and unusual ear, nose and throat disorders. The current standard of training requires completion of a five year residency training program in otolaryngology followed by a formal fellowship in pediatric otolaryngology. The fellowship provides added qualification in the discipline of pediatric otolaryngology above and beyond other certified otolaryngologists.
Some of the common problems treated are:
Tonsil and adenoid disorders, including obstructive sleep apnea
Chronic ear problems, including otitis media (ear infections)
Evaluation and management of hearing loss
Congenital abnormalities of the head and neck
Neck lumps and masses
Sinusitis
Nasal obstruction
Voice and swallowing disorders
Evaluation and treatment of airway disorders such as laryngomalcia, papillomas and vocal cord paralysis
Evaluation and treatment of the laryngologic manifestations of gastroesophageal reflux disease in the infant and child