Michael J. Lipan MD is a board certified Head and Neck surgeon with a particular interest in Rhinology (sinus disorders) and Facial Plastic and Reconstructive Surgery.
Dr. Michael J. Lipan has established one of the premier surgery practices in South Florida. His vision has been to offer excellence in patient care and outcomes while emphasizing quality and individualized care. Expect thorough consultations and customized treatment.
A product of exceptional training and education, at Stuyvesant HS, Cornell University, Mount Sinai School of Medicine, the University of Miami and Stanford University, Dr. Lipan has been taught by scientists, physicians and surgeons who are recognized as leaders in their fields on an international level. Through this exposure, his exceptional surgical skill and charismatic demeanor, he has become a sought out specialist in sinus and facial plastic procedures.
Despite this busy practice, he has found time to maintain involvement in residency and fellowship education as a faculty member in facial plastic surgery courses for the University of Miami Miller School of Medicine and has presented innovative new surgical approaches at the Facial Plastic International Symposium. As an expert in minimally invasive surgical techniques, dozens of surgeons have visited his office to learn Dr. Michael J. Lipan's master techniques for in-office sinus surgery
Dr. Michael J. Lipan's areas of expertise include:
Facial Plastic and Reconstructive Surgery
Face Lift and Neck Lift

Mastery of comprehensive composite flap SMAS technique

Fat Transfer Volumization
Rhinoplasty
Blepharoplasty
BOTOX® Cosmetic wrinkle relaxation and Juvéderm® wrinkle volumization (injectables)
Minimally invasive Chronic sinusitis surgery
In-office Balloon Sinuplasty
In-office Nasal Obstruction Surgery
In-office Septoplasty
In-office Turbinate Reduction
In-office Polyp Removal
In-office Image-guided Support for Sinus Surgery
Allergy Testing and Shots
In office CT Scan of Sinuses (Computerized Tomography)


Nasal Reconstruction including Extracorporeal Septoplasty


Skin Cancer reconstruction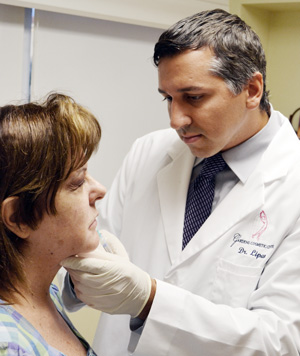 Dr. Lipan maintains privileges at Palm Beach Gardens Medical Center.
He sees patients in our Palm Beach Gardens - PGA office and West Palm Beach - Forest Hill Blvd. office. If you are interested in making an appointment with Dr. Lipan or would like additional information about our practice, please contact our Palm Beach Gardens - 4060 PGA office at (561) 776-7112 or our West Palm Beach – Forest Hill Blvd. office at (561) 969-2001.