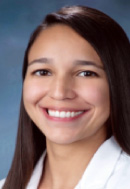 Karilin Campos is a board-certified Physician Assistant, fluent in both Spanish and English. She was born in Venezuela and was raised in South Florida. She received her Bachelors degree in Cell and Molecular Biology from the University of South Florida. Karilin then obtained her Masters in Medical Science from Nova Southeastern University.
She is committed to providing exceptional care to her patients while keeping up-to-date with the latest innovations in medicine.
If you are interested in making an appointment with Karilin, or would like additional information about our practice, please contact our East Boynton Beach and West Boynton Beach - Light offices at 561-737-8584.