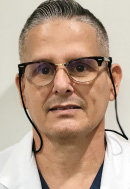 Iroel Hernandez was a Primary Care Physician in Cuba since 1990. He later became a specialist in Plastic Surgery and Burns and worked in one of the most important hospitals in Cuba. His trajectory and his professionalism were fundamental to achieve all his medical goals when he moved to the United States in 2011. Iroel studied hard in order to receive his Registered Nurse Degree (RN) from the International Institute for Health Care Professionals in Boca Raton. He attended Florida National University in Miami, earning his Master of Medical Science degree as Advance Practice Registered Nurse.
Iroel considers himself a proud member of American Academy of Nurse Practitioners.
As APRN, Iroel Hernandez can diagnose and treat medical disorders. He can also order and interpret studies as well as perform minor procedures and prescribe medications alongside with Doctor Jean Paul Font. His previous surgical skills and his immense thirst for learning contribute to give Iroel the desire to continue his studies, and he earned a certification to perform cosmetic procedures such as BOTOX® Cosmetic and Fillers in 2018.

Iroel joined in ENT and Allergy Associates of Florida in 2021. He sees patients in our Miami office located in Kendall. Iroel provides an outstanding comprehensive patient care with active listening of symptoms and concerns to provide to all our patients the high-quality treatment they deserve.

If you are interested in making an appointment with Iroel, or would like additional information about our practice, please contact our Miami office at 305-485-7881. Our Miami staff will be honored to schedule an appointment as soon as convenience for all our patients.