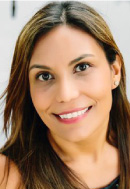 Gina Lowy is a Board Certified Physician Assistant. She joined ENT and Allergy Associates of Florida in 2016.
Gina received her degree in Science and PA studies along with a Master's in Public Health (MPH) in 2003 from Nova Southeastern University. She graduated in the top 1% of her class with honors from both programs. After her graduation, she took the national board exam and received her Physician Assistant certification from the National Commission on Certification of Physician Assistants (NCCPA).
She has been practicing as a certified Physician Assistant since then. Over the last 15 years, Gina has participated in multiple research studies and has practiced in other specialties including Gastroenterology, Interventional Radiology and Vascular Surgery.
Prior to becoming a PA, Gina attended four years of Medical School in Colombia at the Universidad Del Valle. She is fluent in English, Spanish and some Portuguese.
Gina Lowy is a fellow of the Florida Academy of Physician Assistants (FAPA), the American Academy of Physician Assistants (AAPA), and the Society of Physician Assistants in Otorhinolaryngology/Head & Neck Surgery (SPAO-HNS). She has also taught students as a clinical preceptor for Barry University and Nova Southeastern University.
Given her previous surgical skills and her passion for constant learning she decided to obtain a certification for cosmetic procedures including BOTOX® Cosmetic and Fillers in 2017. She currently offers these procedures in our office.
Gina's areas of expertise include:
Adult General Ear, Nose and Throat Medical Care
Ear cleaning (for patients with cerumen/wax).
Hearing Loss
Allergy Testing and Treatment
Chronic Sinusitis
Nasal Obstruction
Nasal Polyps
BOTOX® Cosmetic and Cosmetic Fillers
She has a passion for constant learning and improving, providing the highest medical care with compassion, and creating great relationships with her patients.
Gina sees patients at our Boca Raton office. This office specializes in advanced surgery of the nose and sinuses as well as facial plastic and reconstructive surgery. We also offer the services of our state-of-the-art allergy center. If you are interested in making an appointment with Gina or would like additional information about our practice, please contact us at (561) 939-0909.