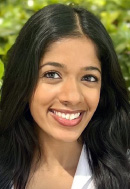 Geena is a board-certified Physician Assistant who received her Master's degree from Nova Southeastern University. Originally from North Carolina, she went to school at Wake Forest University where she received her Bachelor's degree in Health and Exercise Science. Prior to PA school, she was a medical assistant at an allergy and immunology clinic and that is where she found her passion for the field of ENT.
Geena is committed to providing high-quality care for her patients and is dedicated to staying up-to-date on the latest innovations in the field. In her free time, she enjoys travelling, trying new restaurants, and spending time outdoors.
If you are interested in making an appointment with Geena, or would like additional information about our practice, please contact our Plantation - 82nd Ave. office at (954) 368-8519.