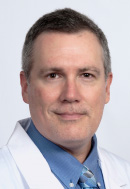 Chris Reifenstein, PA-C is a certified Physician Assistant with over 17 years of clinical experience and has spent a significant portion of his career caring for patients with otolaryngic (ENT) related conditions.
He is a graduate of the Miami-Dade College Physician Assistant program, a member of the Florida Academy of Physician Assistants and Physician Assistants in Otolaryngology / Head and Neck Surgery and he is credentialed by the National Commission on Certification of Physician Assistants.
Chris is known for his kind, compassionate, and patient centered approach to ENT care. As an integral member of our team, his goal is to provide increased access to care in the same standard and style of care as Dr. Scotch, Dr. Seper, and Dr. Bueller. He collaborates closely with our board certified physicians on patient care. He looks forward to caring for you and your family.
Chris currently sees patients at our Wesley Chapel - Cashford Circle 27406, Wesley Chapel - Cashford Circle 27415 and Trinity offices. If you are interested in making an appointment with Chris, or would like additional information about our practice, please contact our office at 813-994-8900.
For more information please visit us at http://www.ScotchENT.com