Dr. Brett Scotch completed his undergraduate studies at the University of Florida in Gainesville where he graduated Cum Laude. He then received his medical degree from Nova Southeastern University College of Osteopathic Medicine in Ft. Lauderdale, FL. Following medical school, Dr. Scotch completed a one year internship in Miami and then went on to complete a five year residency in Otolaryngology (Ear, Nose, & Throat or ENT) / Head & Neck Surgery and Facial Plastic Surgery at the Michigan State University Affiliated Hospitals.
Dr. Scotch is Board Certified in Otolaryngology, Head & Neck Surgery, and Facial Plastic Surgery. He is a Diplomate of the American Osteopathic Board of Otolaryngology – Head and Neck Surgery. He also has earned a Certificate of Added Qualification (CAQ) in Sleep Medicine. His research work has been nationally published and he has lectured at major ENT and medical conventions throughout the country. In addition to general ENT care, he also has special practice interest in the diagnosis and treatment of sleep disorders, snoring, and sleep disordered breathing (sleep apnea). Additionally, he devotes a significant portion of his practice to the diagnosis and treatment of allergies affecting the ears, nose, sinuses, and throat.
Dr. Scotch is an Adjunct Clinical Assistant Professor of Surgery / ENT at the Lake Erie College of Osteopathic Medicine. He has served as the President of the Hillsborough County Osteopathic Medical Society and currently serves as the second Vice President on the executive board of the Florida Osteopathic Medical Association. In 2018 he was appointed by the State of Florida Surgeon General to the Physician Workforce Committee.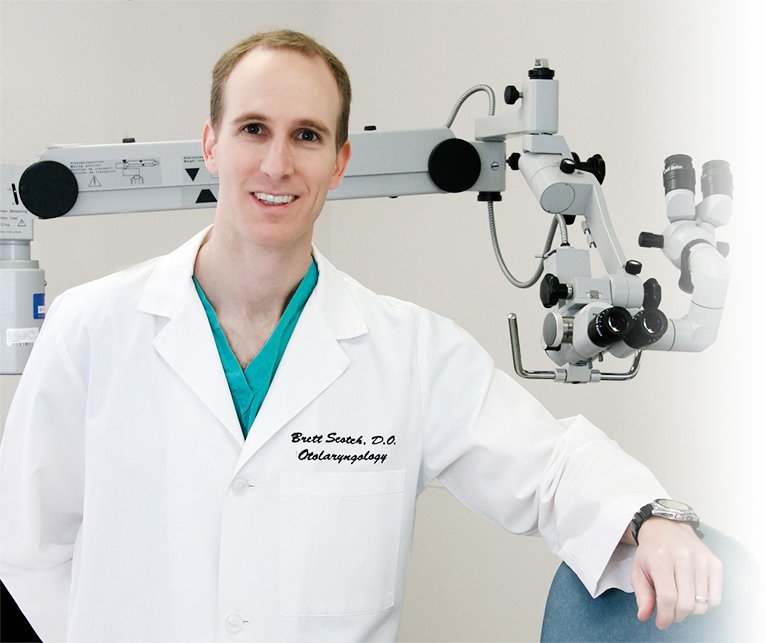 Dr. Scotch maintains privileges at Florida Hospital Wesley Chapel, Tampa General Hospital, Tampa Bay Surgery Center – North, Tampa Bay Surgery Center – Midtown
For more information please visit https://www.scotchent.com.
Dr. Scotch currently sees patients in our Wesley Chapel - Cashford Office and our Trinity Office. If you are interested in making an appointment with Dr. Scotch or would like additional information about our practice, please contact our Wesley Chapel - Cashford office or Trinity office at 813-994-8900.