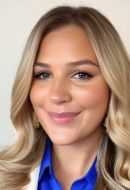 Dr. Ensley completed her undergraduate degree at Wilkes University in 2020, where she received her Bachelor's in Biology. She went on to earn her Doctorate of Audiology from Pacific University in 2023. Dr. Ensley completed her clinical residency at the West Palm Beach VA Medical Center. Dr. Ensley has additional previous experience working in ENT offices, private practices, pediatric hospitals and rehabilitative centers.
Dr. Ensley offers a unique perspective on the audiology field, since she was diagnosed with bilateral hearing loss at the age of 5 years old. She started wearing hearing aids in 2020 and recently underwent cochlear implant surgery for her right ear in February of 2023. Dr. Ensley makes it her personal mission to help as many people as possible, of all ages, overcome the many difficulties presented by hearing loss.
Dr. Ensley was born and raised in Bethlehem, Pennsylvania and now lives in the West Palm Beach area. When not treating patients, she enjoys going to the beach, playing with her dogs Ranger and Norman, eating Chipotle, and making new memories with her friends and family.
Dr. Ensley's areas of expertise include:
Diagnostic and Rehabilitative Audiology for both the Pediatric and Adult Populations
Selection and Fitting of Amplification/Assistive Listening Devices
Counseling and Aural Rehabilitation
Tinnitus Evaluations, Counseling and Management
Vestibular/Balance Assessment and Rehabilitation
Hearing Conservation (Custom Hearing Protection Devices)
Cerumen Management
She sees patients in our Port St. Lucie, Fort Pierce and Okeechobee offices. If you are interested in making an appointment with Dr. Ensley, or would like additional information about our practice, please contact our Port St. Lucie at (772) 398-9911, Fort Pierce at (772) 464-6055 or Okeechobee office at (863) 357-7791.