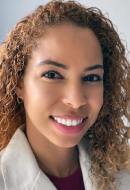 Dr. Henriquez earned her Doctorate in Audiology from Bloomsburg University of Pennsylvania in 2018, where she also completed her Bachelor of Science degree in Audiology and Speech Pathology in 2013. Dr. Henriquez holds her Certificate of Clinical Competence as awarded by the American Speech-Language-Hearing Association.
Throughout her academic career, Dr. Henriquez obtained experience in a wide variety of clinical settings, including ENT private practice, hospital and audiology private practice. Dr. Henriquez completed her fourth year externship at ENT Surgical Group in Kingston, PA.
Dr. Henriquez is fluent in Spanish.
Dr. Henriquez's areas of expertise include:
Diagnostic and Rehabilitative Audiology for the Adult Population
Counseling and Aural Rehabilitation
Selection and Fitting of Amplification (Hearing Aids)
Assistive Listening Devices
Vestibular/Balance Assessment and Treatment
Electrophysiological Assessment
Dr. Henriquez currently sees patients in our West Palm Beach Office on North Flagler Drive and our Palm Beach Gardens Office at 3401 PGA Blvd.
If you are interested in making an appointment with Dr. Henriquez, or would like additional information about our practice, please contact our Palm Beach Gardens Office - 3401 PGA at (561) 655-5562.