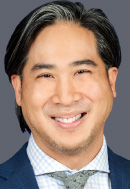 Dr. Timothy Wong was born and raised in Kansas after his parents emigrated from Hong Kong. He attended the University of Kansas and obtained a BS in Chemical Engineering from the University of Kansas Engineering School in 2004. He subsequently entered medical school and graduated from the University of Kansas Medical Center in 2008. He was elected into the prestigious Alpha Omega Alpha honor society. During his final year of medical school, he spent 2 months learning and practicing medicine in Dar es Salaam, Tanzania. Upon graduation he completed his Surgical internship and Otolaryngology - Head and Neck Surgery residency at the University of Florida, Shands Hospital in 2013.
Dr. Wong has presented original research at multiple national meetings including the American Academy of Otolaryngology, Triologic Society, and Combined Sections of Otolaryngology. He has also presented research at regional meetings including the Florida Society of Otolaryngology.
Upon completion of his Residency, Dr. Wong joined a practice in Atlanta, GA for 6 years. During this time, he served as the Chief of Otolaryngology at Kennestone Regional Hospital from 2016-2019, a level 2 Trauma Center. Dr. Wong relocated to Boca Raton in 2020 and joined ENT and Allergy Associates of Florida.
Dr. Wong is happily married and has 3 children (2 daughters and 1 son). He and his wife enjoy a variety of outdoor activities including skiing, hiking and mountaineering.
Dr. Wong enjoys taking care of patients of all ages and his areas of expertise include:
Chronic Sinusitis and Advanced Endoscopic Sinus Surgery
Adult and Pediatric General Ear, Nose and Throat Medical and Surgical Care
Head and Neck Cancer Surgery
Thyroid and Parathyroid Surgery
Allergy Testing and Treatment
Hearing Loss and Balance Disorders
Hearing Amplification Devices (Hearing Aids)
Voice and Swallowing Disorders
Dr. Wong is on staff at Boca Regional Hospital.
Dr. Wong sees patients in our North Boca Raton and West Boca Raton offices. If you are interested in making an appointment with Dr. Wong, or would like additional information about our practice, please call (561) 391-3333.