Dr. Paul E. Lapco graduated Medical School from the University Central de Venezuela in Caracas, Venezuela in 1991. After completing Medical School he completed a Research Fellowship and his Surgical Internship at Albert Einstein Medical Center in Philadelphia, PA. Dr. Lapco completed his otolaryngology residency at the University of Pittsburgh School of Medicine in Pittsburgh, PA.
Dr. Lapco is Board Certified by the American Board of Otolaryngology.
Dr. Lapco is actively involved with the American Academy of Otolaryngology – Head and Neck Surgery and the Florida Medical Association,.
He has presented at numerous conferences including the Annual Meeting of the American Academy of Otolaryngology - Head and Neck Surgery and has published in several medical journals including The American Journal of Otolaryngology and Otolaryngology - Head and Neck Surgery.
Dr. Lapco's areas of expertise include:
Balloon Sinuplasty and Polyp Microdebridement, and other Minimally Invasive In-Office Treatments for Problems of the Sinuses and Nose
Adult and Pediatric General Ear, Nose and Throat Medical and Surgical Care
Head and Neck Surgery
Chronic Sinusitis and Advanced Endoscopic Sinus Surgery
Voice and Swallowing Disorders
Snoring and Sleep Disorders
Allergy Testing and Treatment
Hearing Loss and Balance Disorders
Hearing Amplification Devices (Hearing Aids)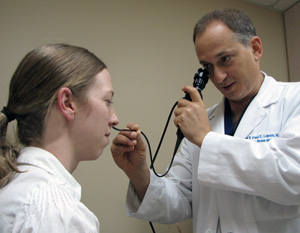 Dr. Lapco has been in private practice in Broward County since 2001. He is currently on staff at North Broward Medical Center and Outpatient Surgical Services – Plantation.
Dr. Lapco currently sees patients in our Pompano Beach office.
If you are interested in making an appointment with Dr. Lapco, or would like additional information about our practice, please contact our Pompano Beach office at (954) 942-6868.
For more information on Dr. Lapco please visit www.drlapco.com