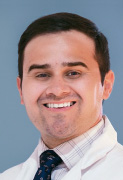 Mauricio Parra-Ferro, M.D. is a graduate of the Florida State University College of Medicine, where he ranked among the top 10% of his class and was recognized for his exceptional academic achievements with induction into the prestigious Alpha Omega Alpha (AOA) honors society. He completed his Otolaryngology Head and Neck Surgery internship and residency through the University of Florida Health System, where he also served as Chief Resident.
Throughout medical school and residency, Dr. Parra-Ferro distinguished himself as a scholar and researcher. He has published several peer-reviewed articles and presented his work at local and national conferences.
Dr. Parra-Ferro is passionate about providing comprehensive care that centers around the need of patients from all backgrounds and is particularly dedicated to serving the Spanish-speaking community. As a proud member of a Colombian family, he understands the importance of cultural sensitivity and effective communication, and he is committed to ensuring that all patients receive the highest standard of care.
In his free time, Dr. Parra-Ferro enjoys hiking and exploring the world with his wife while honing his skills as an avid photographer. He is also eagerly anticipating the arrival of their first child.
Dr. Parra-Ferro currently sees patients in our Coral Springs office and Plantation office. If you are interested in making an appointment with Dr. Parra-Ferro or would like additional information about our practice, please contact our Plantation office at (954) 476-0400 or our Coral Springs office at (954) 796-0400.
Please see www.entfortlauderdale.com for further information about Dr. Parra-Ferro.