Dr. Marcus Mayer graduated from Columbia University with a BA in biology. He completed medical school at The Albert Einstein College of Medicine in New York. He completed his internship at Beth Israel Hospital and his otolaryngology residency at Montefiore Hospital and Bronx Municipal Hospital, all in New York City.
Dr. Mayer has been in practice since 1987. While in practice in New York, he was Assistant Clinical Professor, Department of Otolaryngology at Montefiore Hospital.
Dr. Mayer is Board Certified in Otolaryngology. His areas of expertise include:
Pediatric and Adult general Ear, Nose and Throat medicine
Voice and Swallowing Disorders
Allergy Testing and Treatment
Sleep Disorders
Hearing Loss and Balance Disorders
Hearing Amplification Devices (Hearing Aids)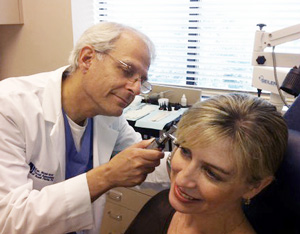 Dr. Mayer is on staff at Boca Raton Regional Hospital. He is fluent in Hebrew. Dr. Mayer currently sees patients in our East Boca Raton and Delray Beach offices.
If you are interested in making an appointment with Dr. Mayer or would like additional information about our practice, please contact our East Boca Raton office at (561) 955-1955 or our Delray Beach office at (561) 495-5537