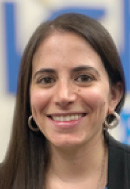 Dr. Mallory Highstein is an Otolaryngology-Head and Neck Surgeon. Dr. Highstein received her ENT training at the University of Maryland Medical Center. She covers the entire breadth of Otolaryngology, taking special interest in sinus surgery, allergy, hearing loss, vertigo, speech and swallow disorders, as well as head and neck surgery.
Dr. Highstein shines in patient and staff rapport, receiving several accolades during her training including resident of the year out of several hundred residents in the hospital as well as an award for her relationships with the nurses. She provides medical and surgical care for adult patients with all diseases of the head and neck.
Dr. Highstein takes great pride in helping her patients achieve return to normal function or better. She looks forward to helping you improve your quality of life!
Dr. Highstein's expertise includes:
Balloon Sinuplasty and In-office Sinus Procedures
Allergy Testing and Desensitization Shots
Hearing Loss, Dizziness, Tinnitus and Vertigo
Hearing Amplification Devices (Hearing Aids)
Voice Disorders and Procedures of the Larynx
Head and Neck Cancer screening and treatment
Chronic Sinusitis and Advanced Endoscopic Sinus Surgery
If you are interested in making an appointment with Dr. Highstein or would like additional information about our practice, please contact our East Boynton Beach and West Boynton Beach - Light offices at 561-737-8584.