Dr. del Valle completed medical school at New York Medical College and her residency at The New York Eye and Ear Infirmary in New York City. She then went into private practice in New York City before moving to Boca Raton. She worked in private practice in Boca Raton for three years prior to joining ENT and Allergy Associates of Florida.
Dr. del Valle specializes in medical treatment of ear, nose and throat conditions for both pediatric and adult patients. She speaks fluent Spanish and is proficient in Portuguese. Dr. del Valle has also traveled the world to help those less fortunate. She has participated in medical mission trips performing surgery on patients with no access to medical care.
"I believe in taking the time to get to know my patients and listening to their concerns so that we can come up with a treatment plan together. I apply the most modern medical advancements to a more traditional approach where doctors spend time with their patients. I take great pride in the medical care I provide and believe in treating my patients as I would my own family."
Dr. del Valle is Board Certified by the American Board of Otolaryngology.
Dr. del Valle's areas of expertise include:
Adult General Ear, Nose and Throat Medical Care
Chronic Sinusitis
Thyroid Disorders and Treatment
Allergy Testing and Treatment
Hearing Loss, Dizziness and Balance Disorders
Hearing Amplification Devices
Snoring and Sleep Disorders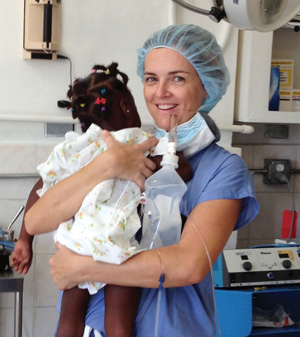 Dr. del Valle - Haiti Surgical Mission Trip 2015Dr. del Valle maintains privileges at Boca Raton Regional Hospital.
Dr. del Valle currently sees patients in our East Boca Raton and North Boca Raton offices. If you are interested in making an appointment with Dr. del Valle, or would like additional information about our practice, please contact our East Boca Raton office at (561) 955-1955 or our North Boca Raton office at (561) 939-0900.