Dr. Loney received her medical degree from Stanford University School of Medicine. She left sunny California to complete her Otolaryngology - Head and Neck Surgery residency at the University of Iowa College of Medicine. A native New Yorker, her prior experience includes over five years of Ear, Nose and Throat private practice in Northern Virginia near Washington, D.C. Due to her husband's military career she has been in private practice in Nevada, Maryland and Iowa as well. Dr. Loney is a Certified Diplomate of the American Board of Otolaryngology.
Dr. Loney's areas of expertise include:
Adult and Pediatric General Ear, Nose and Throat Medical and Surgical Care
Head and Neck Surgery
Hearing Loss, Dizziness and Balance Disorders
Hearing Amplification Devices (Hearing Aids)
Snoring and Sleep Disorders
Voice and Swallowing Disorders
Chronic Nasal and Sinus Disorders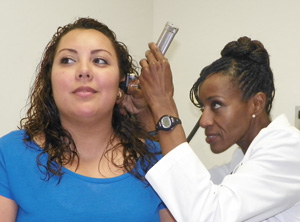 Dr. Loney has presented research findings at several National Physician Meetings and has published in medical journals as well as written chapters for medical textbooks.
Presently, Dr. Loney maintains staff privileges at Wellington Regional Medical Center and Palms West Hospital.
Dr. Loney currently sees patients in our Loxahatchee Office. If you are interested in making an appointment with Dr. Loney or would like additional information about our practice, please contact our Loxahatchee office at (561) 793-5077.