Chief of Surgery at Boca Raton Regional Hospital
Director of Pediatric Surgery at Boca Raton Regional Hospital
Dr. Ari I. Wirtschafter graduated from college with honors from the University of Pennsylvania. Continuing his training in Philadelphia, he completed medical school at Jefferson Medical College and his general surgical internship at Lankenua Hospital. Dr. Wirtschafter then completed a residency in Otolaryngology – Head and Neck Surgery at Henry Ford Hospital in Detroit, Michigan.
Dr. Wirtschafter is double board certified:
Board Certified in Otolaryngology - Head and Neck Surgery
Board Certified in Sleep Medicine
Dr. Wirtschafter was named Otolaryngologist of the Year for 2011 for the State of Florida.
Dr. Wirtschafter's appointments include:
Co-Chairman and Executive Board Member ENTAAF
Chief of Surgery (Past) – Boca Raton Regional Hospital
Vice President, Medical Staff Executive Committee
Past President – Florida Society of Otolaryngology
Florida Representative – Otolaryngology Medicare Advisory Committee
Executive Board Member – Network of Florida Otolaryngologists (NFO)
He serves on two prestigious national committees:
Healthcare Policy and Payment Committee (3P)
Alternate RUC (Relative Value Update Committee) advisor for AAOHS for the AMA
He has lectured at numerous conferences and has been published in several medical journals including: JAMA, Archive of Otolaryngology – Head and Neck Surgery, and Laryngoscope.
Dr Wirtschafter's areas of interest include:
Adult and Pediatric General Ear, Nose and Throat Medical and Surgical Care
Chronic Sinusitis and Advanced Endoscopic Sinus Surgery
Voice and Swallowing Disorders
Snoring and Sleep Disorders
Allergy Testing and Treatment
Hearing Loss and Balance Disorders
Hearing Amplification Devices (Hearing Aids)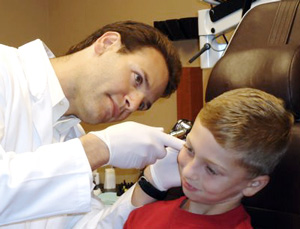 Dr. Wirtschafter has been in private practice in Boca Raton since 2003. He is currently on staff at Boca Raton Regional Hospital.
Dr. Wirtschafter currently sees patients in our North Boca Raton office.
If you are interested in making an appointment with Dr. Wirtschafter, or would like additional information about our practice, please contact our North Boca Raton office at (561) 391-3333.