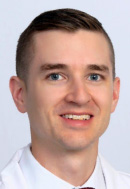 Andrew Agnew, DO received his medical degree from the Lake Erie College of Osteopathic Medicine, in Erie, PA.
He then went on to complete his otolaryngology residency in Otolaryngology Head & Neck Surgery at the University of Pittsburgh Medical Center, Pittsburgh, PA Dr. Agnew then completed a fellowship in Head & Neck Oncology and Microvascular Reconstruction at Moffitt Cancer Center, Tampa, FL
Dr. Agnew is an ear, nose and throat (ENT) surgeon with advanced fellowship training in head and neck oncology and endocrine surgical oncology.
Dr. Agnew treats patients for a wide variety of conditions of the head and neck including diagnosis of ear, nose and throat disorders, disorders affecting the head and neck, medical and surgical treatment of sinus disease, surgical treatment of facial cancers, surgical treatment of sleep apnea, and more.
Dr. Agnew is the director of sleep surgery at the Scotch Institute of Ear, Nose, & Throat. He specializes in all aspects of surgical treatment of sleep disorders, and has special interest and a high level of expertise in the Inspire® Implant surgery for OSA.
Outside of caring for his patients, Dr. Agnew enjoys spending time with his family and spends his free time hiking, gardening, golfing, and rooting for Pittsburgh sports teams.
For more information please visit https://www.scotchent.com.
Dr. Agnew currently sees patients in our Wesley Chapel - Cashford Offices and our Trinity Office. If you are interested in making an appointment with Dr. Agnew or would like additional information about our practice, please contact our Wesley Chapel - Cashford office 27406, Wesley Chapel - Cashford office 27415 or Trinity office at 813-994-8900.