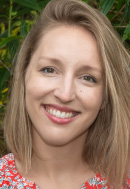 Sarah Cross, APRN is an ANCC board certified Family Nurse Practitioner, who started with ENT and Allergy Associates of Florida in 2022. Sarah received her bachelor's in nursing from University of Miami and later completed her master's degree in nursing from Florida Atlantic University. She is a member of the Sigma Theta Tau Honor Society of Nursing.
Sarah is dedicated to providing evidenced-based care, which is compassionate to the needs of each individual patient. Sarah is committed to learning and staying up to date with practice standards and looks forward to working with the ENTAAF team to provide the highest quality care to patients visiting the Okeechobee, Port Saint Lucie, and Fort Pierce offices.

Sarah sees patients in our Port St. Lucie, Fort Pierce and Okeechobee offices. If you are interested in making an appointment with Ms. Cross, or would like additional information about our practice, please contact our Port St. Lucie office at (772) 398-9911, Fort Pierce office at (772) 464-6055 or Okeechobee office at (863) 357-7791.