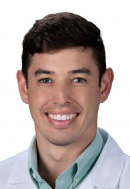 Robert Carr received his Bachelor's degree from Florida State University, and his Masters of Clinical Medical Science degree from Barry University. He is a Florida native, originally from Tampa. In his free time, Robert enjoys cycling on his Peloton, spending time with his wife and two dogs, playing soccer and traveling.
For more information please visit https://floridaentandallergy.com.
Robert currently sees patients in our Brandon, Riverview and South Tampa Offices. If you are interested in making an appointment with Robert or would like additional information about our practice, please contact our Brandon office, Riverview office or South Tampa office at 813-879-8045.