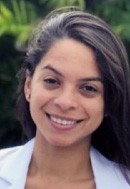 Karen Reyes is a board-certified Nurse Practitioner. She joined the team in 2022. Karen started her career in Emergency Medicine before transitioning to Primary Care. Her background makes her an excellent asset to our team. She excels in treating the patient as a whole and not just the problem or symptoms.
Karen was born in Argentina, but has spent most of her life in Florida. She is fluent in Spanish, Portuguese, and English.
Anyone who meets Karen feels immediately comfortable with her as exemplified by her being awarded "The DAISY Award" in 2020 for providing extraordinary care to her patients. She looks forward to bringing that same amazing care and continuing her purpose in life to help and support her patients..
Karen's areas of expertise include:
Vertigo / Dizziness
Ear Cleanings
Sinus Infections
Routine ENT care
If you are interested in making an appointment with Karen, or would like additional information about our practice, please contact our East Boynton Beach and West Boynton Beach - Light offices at 561-737-8584.