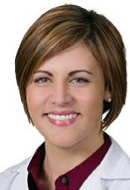 Dr. Sophia Escobar holds a Doctor of Audiology degree from the University of South Florida. She obtained her undergraduate degree in Communication Sciences and Disorders from the University of South Florida. She is a fellow of the American Academy of Audiology and holds her Certificate of Clinical Competence from the American Speech-Language-Hearing Association. In 2012, she was awarded Best of 2012 Hearing Healthcare Professionals.
Dr. Escobar's special interests include vestibular testing and treatment, hearing aid prescription and follow-up, and community outreach. Dr. Escobar enjoys and has experience working with all age groups. She married her wonderful husband, Nelson, in 2009. They have two children who are the light of their lives. When she's not caring for her patients, Dr. Escobar enjoys family time, exercise and the beach.
For more information please visit https://floridaentandallergy.com.
Dr. Escobar currently sees patients at our Brandon, Riverview and Van Dyke/St. Joseph North Offices. If you are interested in making an appointment with Dr. Escobar, or would like additional information about our practice, please contact our Brandon office, Riverview office or Van Dyke/St. Joseph's North office at 813-879-8045.