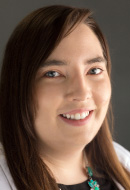 Dr. Cross completed her undergraduate coursework and earned her Bachelor's degree in Hearing, Speech and Language Sciences and received her Doctorate in Audiology from Ohio University where she graduated with Honors.

Dr. Cross has experience in a variety of settings including ENT clinics, private practice audiology, hospitals, school systems (school screenings) and university clinics.

Dr. Cross' areas of expertise include:
Diagnostic and Rehabilitative Audiology for the Adult and Pediatric Populations
Selection and Fitting of Amplification (Hearing Aids)
Counseling and Aural Rehabilitation
Assistive Listening Devices
Hearing Conservation (hearing protection devices)
Vestibular/Balance Assessment and Rehabilitation
Tinnitus Assessment, Management and Counseling
Dr. Cross currently sees patients at our Palm Beach Gardens Office at 3401 PGA Blvd. If you are interested in making an appointment with Dr. Cross, or would like additional information about our practice, please contact our Palm Beach Gardens office at (561) 627-3773.