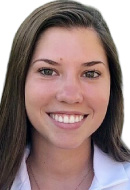 Dr. Urban earned her Doctorate of Audiology from Nova Southeastern University in 2023, where she graduated magna cum laude. In 2019, she graduated from Illinois State University where she earned a Bachelor's degree in Communication Sciences and Disorders.
Dr. Urban completed her fourth-year clinical residency at Arizona Hearing and Balance Center in Phoenix, Arizona. She has obtained experience in a variety of clinical settings including a neurotology practice, a variety of ENT settings, a pediatric hospital, university clinic, and a private practice. She is fluent in Polish.
Dr. Urban's areas of expertise include:
Diagnostic Audiology for Adult and Pediatric Populations
Selection and Fitting of Amplification (Hearing Aids)
Selection and Programming of Implantable Hearing Devices (Cochlear Implants and Osseo-Integrated Devices)
Counseling and Aural Rehabilitation
Vestibular Assessment and Rehabilitation
Electrophysiology Evaluations
Dr. Urban currently sees patients in our East Boca Raton office. If you are interested in making an appointment with Dr. Urban, or would like additional information about our practice, please contact our East Boca Raton office at 561-393-9150.