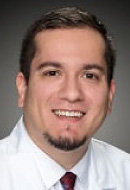 Dr. Jose Quiles received his Bachelor of Science from the Interamerican University of Puerto Rico in 2009. He then went on to work in Nationwide Research Hospital at Columbus Ohio assisting in the research of Respiratory Syncytial Virus (RSV) F-protein function under Dr. Mark Peeples.
Dr. Quiles received his Doctorate degree in Clinical Audiology from NOVA Southeastern University in 2017. He performed his externship and remained working at HearUSA in Miami where he performed hearing and balance evaluations as well as programming and dispensing of hearing aids in the adult and pediatric population.
In his free time Dr. Quiles likes to enjoy time on the beach with his wife and son. He is also an avid guitar player and enjoys music production in multiple music genres.
For more information please visit https://suncoastentsurgery.com.
Dr. Quiles currently sees patients at our Trinity and Brooksville offices. If you are interested in making an appointment with Dr. Quiles, or would like additional information about our practice, please contact our Trinity office or Brooksville office at 352-688-0800.