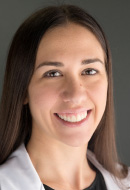 Dr. Erin Cocchiola graduated with highest honors from Nova Southeastern University's (NSU) Doctor of Audiology program in 2010. She graduated cum laude with a Bachelor of Arts in Communication Sciences and Disorders from the University of South Florida (USF).
While studying at NSU, she was the recipient of the Chancellor's Scholarship Recipient for Academic Excellence and the Florida Academy of Audiology Student Scholarship. She was also a member of the NSU chapter of the Student Academy of Audiology as well as the Alpha Eta Society, Allied Health and Nursing Honor Society.
She has experience in a variety of clinical settings such as ENT practices, private audiology practice, and hospitals.
Dr. Cocchiola is internationally published in the area of genetics of hearing loss and auditory hair cell regeneration. She has also given a national presentation and locally published in the area of auditory function of individuals with autism spectrum disorders.
Dr. Cocchiola is a research collaborator with Florida Atlantic University specializing in Auditory Processing abilities of individuals with Asperger's Syndrome. She is also a Clinical Preceptor for third and fourth year students in Doctor of Audiology Programs.
Dr. Cocchiola is now a Fellow of the American Academy of Audiology and the Florida Academy of Audiology. She is also Board Certified by the American Speech-Language-Hearing Association.
Dr. Cocchiola's areas of expertise include:
Auditory Processing Evaluations and Disorders for pediatric and adult populations
Diagnostic and Rehabilitative Audiology for the adult and pediatric populations
Counseling and Aural Rehabilitation
Selection and fitting of Amplification (Hearing Aids)
Assistive Listening Devices
Vestibular/Balance Assessment and Rehabilitation
Dr. Cocchiola currently sees patients in our Wellington – Forest Hill Blvd. office and our West Palm Beach - 45th Street office. If you wish to make an appointment with Dr. Cocchiola or would like additional information on our practice please contact our Wellington – Forest Hill Blvd. office at (561) 790-3329 or our West Palm Beach office at (561) 848-5579.