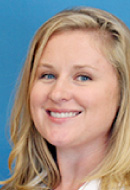 Dr. Anderson completed her undergraduate coursework from the State University of New York at Geneseo in 2004. She received her Doctorate of Audiology from Nova Southeastern University in 2008. Dr. Anderson has experience in a variety of clinical settings such as ENT practices, private audiology practice, hospitals and the school system. Dr. Anderson has served as a Clinical Supervisor for third and fourth year students in the Doctor of Audiology Program. She is currently a fellow of the American Academy of Audiology and a member of the American Tinnitus Association. Dr. Anderson relocated to the Treasure Coast in 2014 and enjoys the beach with her rescue dog Harry, the downtown Fort Pierce Farmers Market and all the natural beauty of the river.
Dr. Anderson's areas of clinical expertise include:
Diagnostic and Rehabilitative Audiology (adult and pediatric)
Counseling and Aural Rehabilitation
Selection and fitting of hearing aids
Tinnitus Assessment and Management
Assistive Listening Devices
Vestibular / Balance Assessment and Rehabilitation
Dr. Anderson currently sees patients in our Fort Pierce - Coastal and Port St. Lucie - Coastal offices. If you are interested in making an appointment with Dr. Anderson or would like additional information about our practice, please contact our Fort Pierce - Coastal office at 772-464-9595 or our Port St. Lucie - Coastal office at 772-335-1351.