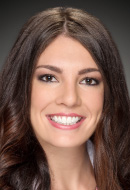 Dr. Sacchinelli received her Doctor of Audiology degree at Auburn University, a specialized program that is designed to provide academic and clinical excellence in order to cultivate the skills necessary to become competent, qualified and caring practitioners. Throughout the course of her education, she has learned and developed the skills necessary to provide quality compassionate and individualized patient centered care.
In 2016, she was awarded most outstanding student enrolled in audiology at the Speech and Hearing Association of Alabama (SHAA) conference. Dr. Sacchinelli holds the Certificate of Clinical Competence from the American Speech-Language-Hearing Association (ASHA).
Her mission is to provide comprehensive audiological and vestibular services based on clinical expertise while most importantly incorporating patient values and expectations. Outside of work, Dr. Sacchinelli enjoys playing volleyball and spending time at the beach.

If you are interested in making an appointment with Dr. Sacchinelli, or would like additional information about our practice, please contact our Tampa - Habana Avenue office at 813-877-3100.