Dr. Jaffe (a fellowship-trained Pediatric Otolaryngologist) joined ENT and Allergy Associates of Florida in October, 2006 after being in private practice in South Florida since 2002. Dr. Jaffe received her medical degree from the University of Missouri School of Medicine in 1993. She completed her general surgery internship at Truman Medical Center in Kansas City, MO and her Otolaryngology - Head and Neck Surgery residency at the University of Iowa in Iowa City, IA. Finally, Dr. Jaffe completed her Clinical Fellowship in Pediatric Otolaryngology at the Children's Hospital of San Diego in San Diego, CA.
Dr. Jaffe is Board Certified by the American Board of Otolaryngology and is active in the American Academy of Otolaryngology – Head and Neck Surgery.
Dr. Jaffe's areas of expertise in Pediatric General Ear, Nose and Throat Medical and Surgical Care include:
Ear Infections (Otitis Media)
Snoring/Enlarged Tonsils
Nasal Obstruction
Tongue Tie
Nose Bleeds (Epistaxis)
Laryngopharyngeal Reflux
Sinus Infections (Sinusitis)
Tonsil Infections (Tonsilitis)
Breathing Difficulties/Airway Abnormalities
Hoarseness
Abnormal Voice/Speech
Vocal Cord Paralysis
Hearing Loss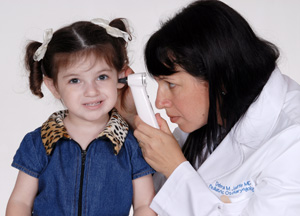 Dr. Jaffe has presented research findings at several National Physician Meetings and has published in a variety of journals including the International Journal of Oncology, Archives of Otolaryngology Head and Neck Surgery and the Annals of Otology Rhinology and Laryngology.
Dr. Jaffe maintains privileges at Wellington Regional Medical Center and Coral Springs Medical Center.
Dr. Jaffe currently sees patients in our West Boynton Beach office. If you are interested in making an appointment with Dr. Jaffe or would like additional information about our practice, please contact our West Boynton Beach office at (561) 734-3636.