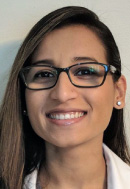 Sameeksha is a Board Certified Physician Assistant who joined Dr. Lee Mandel and ENT and Allergy Associates of Florida in June, 2017. She graduated with a Master of Science in Physician Assistant degree from Keiser University and received her Physician Assistant certification from National Committee on Certification of Physician Assistants in 2017. She has been an active member of the Florida Academy of Physician Assistants since 2015.
Sameeksha chose to pursue a career as an ENT PA after attending a conference hosted by Network of Florida Otolaryngologists in 2016 and she soon realized her passion for this specialty. She comes to this practice with eagerness to learn and to constantly improve as a healthcare provider. She aims to provide the highest level of patient care.
If you are interested in making an appointment with Sameeksha or would like additional information about our practice, please contact us at our Fort Lauderdale office at (954) 983-1211 or our Plantation – Pine Island Rd. office at (954) 587-4218.