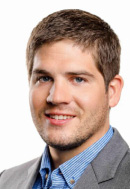 Ethan Craig is a Board-Certified Physician Assistant with specialty training in Otolaryngology, Allergy and Immunology. Ethan received his training at the University of Nebraska Medical Center, Omaha, Nebraska and the Army Medical Department Center & School in San Antonio, Texas. Ethan has been a community practicing P.A. since 2016 as well as a Battalion P.A. in the Army National Guard and prior to that served as a Combat Medic.
Ethan has received many military awards while serving in the National Guard, including the Army Commendation Medal, National Defense Service Medal and the Army Service Ribbon.
Ethan specializes in diseases affecting the ears, sinus and throat and has an extensive background in in-office procedures and non-invasive treatments for conditions affecting breathing, swallowing and hearing.
Ethan currently sees patients at our East Boynton Beach office. If you are interested in making an appointment with Ethan, or would like additional information about our practice, please contact our
East Boynton Beach office
at
561-737-8584
.