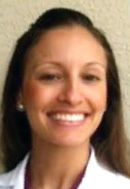 Brigitte is a Physician Assistant with Dr. Lee Mandel since 2009 and with ENT and Allergy Associates of Florida since 2012. She completed her Masters of Medical Sciences with highest honors from Nova Southeastern University College of Allied Health and Nursing in 2009, and received her Physician Assistant certification from the National Commission on Certification of Physician Assistants. She was recognized and nominated by the physician assistant program director and faculty at Nova Southeastern University for induction into Pi Alpha, the National Honor Society for Physician Assistants. She began her career as a Physician Assistant in otolaryngology shortly after completing her clinical preceptorship as a student with Dr. Mandel.
She is an active fellow of the Florida Academy of Physician Assistants (FAPA) since 2007, the American Academy of Physician Assistants (AAPA) since 2008, the Society of Physician Assistants in Otorhinolaryngology/Head & Neck Surgery (SPAO-NHS) since 2011, and the American Academy of Otolaryngic Allergy (AAOA) since 2012. Brigitte has also served as a clinical preceptor for Physician Assistant students at Nova Southeastern University.
If you are interested in making an appointment with Brigitte or would like additional information about our practice, please contact us at our Fort Lauderdale office at (954) 983-1211 or our Plantation – Pine Island Rd. office at (954) 587-4218.