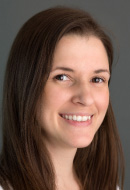 Dr. Holmes received her Doctorate in Audiology from the University of South Florida in May of 2016. She completed her undergraduate coursework in psychology at the University of South Florida in 2012, where she graduated Magna Cum Laude.
As a graduate student, Dr. Holmes received the University of South Florida's Graduate Student Success Scholarship and was recognized by the Graduate Study Hispanic Heritage Committee for the completion of her Audiology Doctoral Project on the benefits of implementing a Spanish language Aural Rehabilitation program in Central Florida.
She completed her fourth year Doctoral Clinical Externship with Ear, Nose and Throat Associates of South Florida. She accepted the invitation to become part of the clinical diagnostic team at Ear, Nose and Throat Associates of South Florida at the completion of her fourth year Externship.
Dr. Holmes obtained experience in a wide variety of clinical settings, including hospital, ENT practice, private practice and Veterans Affairs (VA).
Dr. Holmes is fluent in Spanish.
Dr. Holmes' areas of expertise include:
Diagnostic and Rehabilitative Audiology for the Adult and Pediatric Populations
Counseling and Aural Rehabilitation
Selection and Fitting of Amplification (Hearing Aids)
Cochlear Implant Services
Assistive Listening Devices
Tinnitus Assessment and Management
Vestibular Assessment and Rehabilitation
Dr. Holmes currently sees patients in our North Boca Raton office location. If you are interested in making an appointment with Dr. Holmes, or would like additional information about our practice, please contact our North Boca Raton at (561) 393-9150.