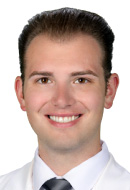 Dr. Christakis completed his undergraduate studies at St. Xavier University with a major in communication sciences and disorders and a major in vocal music. He went on to earn his doctorate in audiology at The University of Tennessee Health Science Center with a concentration in aural rehabilitation and completed his clinical externship at Professional Hearing Services in Waukesha, Wisconsin.
Some of his interests include comprehensive pediatric and adult evaluations, aural rehabilitation, and amplification technology for adults and pediatrics. This is his first time living in Florida. He enjoys being outdoors, especially near the water.
For more information please visit https://floridaentandallergy.com.
Dr.Christakis currently sees patients in our Brandon and Riverview Offices. If you are interested in making an appointment with Dr.Christakis or would like additional information about our practice, please contact our Brandon office or Riverview office at 813-879-8045.