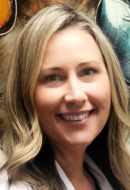 Dr. Muncy received her Doctorate in Audiology from the University of Texas at Dallas/Callier Center for Communication Disorders in 2005. She completed her undergraduate coursework at the University of Florida in 2001, where she graduated with honors.
She completed her fourth year Doctoral Clinical Externship in 2004 with the University of Texas at Dallas Advanced Hearing Research Center where she provided auditory evoked potential testing to children as part of an NIH grant studying brain plasticity as it relates to the age of cochlear implantation.
Dr. Muncy has experience in a wide variety of settings including ENT clinics, private practice audiology, and university education. The large majority of her career was spent practicing in the Dallas/Fort Worth metropolitan area, but she recently moved back to Jupiter, Florida to continue her career in her hometown. Her areas of interest are as follows:
Tinnitus Assessment and Management
Diagnostic and Rehabilitative Audiology for the Adult
Selection and Fitting of Amplification (Hearing Aids)
Cochlear Implants and Osseointegrated Hearing Devices
Counseling and Aural Rehabilitation
Vestibular/Balance Assessment and Rehabilitation
Auditory Evoked Potential Testing
Dr. Muncy currently sees patients in our Jupiter Lakes Building 5000 office. If you are interested in making an appointment with Dr. Muncy or would like additional information about our practice, please contact our Jupiter - Jupiter Lakes Blvd. office at (561) 748-4445.